Trends in Industrial Additive Manufacturing (3D Printing)
Nearly 57% of all 3D Printing (Additive Manufacturing) work is done in the first phases of new product development.
55% professionals predict that they will invest more in 3D Printing services in 2018
47% of companies surveyed have seen a greater ROI on their 3D Printing investments this year compared to previous years.

These insights are gathered from the 3rd annual State of 3D Printing, 2017 (free, 31 pp., PDF, opt-in) study from Sculpteo. However, the majority of respondents are industry professionals who invent, innovate, and produce products using 3D Printing.
Additive Manufacturing is majorly used to enhance product development (28%), offer customized products (16%) and to boost production flexibility (13%). Additional uses include enabling co-creation with customers (9%), reducing tooling investment (9%), optimizing demo product expenses (6%) and improving spare parts management (4%).
The following graphic compares top priorities for 3D Printing in 2017 versus the study's prediction in 2022.
Additive Manufacturing (3D Printing)
Additive Manufacturing can be defined as processes in which material is coagulated or bonded under the control of a computer to create a three-dimensional object with the material being added together. Objects used in the process can be of any shape and are produced using digital model data from a 3D model or another electronic data source such as Additive Manufacturing File (AMF) file. Additive manufacturing is employed to achieve mass-production.
In other words, additive manufacturing (3D Printing) can be defined as a process by which 3D design data is used to build up a component in layers by depositing material.
Industrial Additive Manufacturing
Industrial additive manufacturing, which is a game-changing production technology, is gaining momentum in the commercial manufacturing environments.

Additive manufacturing (AM) is commonly known as '3D Printing', a production technology that is driving the next industrial revolution.
• 3D objects are built by adding layer by layer of material
• Objects can be made virtually of any shape using a digital model
Industrial Additive Manufacturing Vs 3D Printing
There is not much difference between Additive Manufacturing and 3D Printing. However, additive manufacturing and 3D Printing are synonyms for the process of building parts by joining material layer by layer using a CAD file.
People who work in an industrial or manufacturing industry refer the process as 'Additive Manufacturing' whereas media, other people refer it as 3D Printing.
Additive Manufacturing (3D Printing) Process
Additive Manufacturing (3D Printing) involves the process of building layers of a material to create a solid object using CAD, STL conversion and files manipulation, printing, removal of prints, and post-processing.
Source: siemens.com
1. CAD
In the additive manufacturing process, producing a digital model is the initial step. To produce a digital model, the most common method is CAD (Computer Aided Design). There are several free and professional CAD programs that are compatible with the additive manufacturing. On the other hand, reverse engineering can also be used to generate a digital model via 3D scanning.
2. STL conversion and file manipulation
The second step included in the additive manufacturing process is converting a CAD model into an STL (Stereolithography) file. To describe the surfaces of an object, STL uses triangles (polygons). Before converting a model to an STL file, model limitations such as physical size, water tightness and polygon count should be considered.
After generating the STL file, it is imported into a slicer program. This program takes the STL file and converts it into G-code, which is a numerical control (NC) programming language. This language can be used in Computer-Aided Manufacturing (CAM) to control automated machine tools including 3D printers and CNC machines.
3. Printing
At this stage, the print material is loaded into the printer. To produce accurate points, maintenance of machine parts, calibration is important. The raw materials used in additive manufacturing have a limited shelf life and require careful handling.
Moreover, most additive manufacturing machines do not need to be monitored after the print has begun. An automated process will be followed and the issue/problem arose when the machine runs out of material or if there is a software problem.
4. Removal of prints
Remove of the print is simple as it requires the separation of a printed part from the build platform.
5. Post processing
Post-processing procedures vary by printer technology. For example, SLA (Stereolithography Apparatus) requires a component to treat under UV before handling; metal parts need to be stress relieved in an oven while FDM (Fused Deposition Modeling) parts can be handled right away.
In this step, 3D printing materials are capable to be sanded and other post-processing techniques including polishing, high-pressure air cleaning, tumbling, and coloring are implemented to prepare a print for end use.
Benefits of Additive Manufacturing (3D Printing)
Additive Manufacturing (3D Printing) allows for highly complex structures that can be extremely light and stable. It also enables a design-driven manufacturing process where design determines production.
It is used as it provides various advantages such as:
1) Additive manufacturing (3D Printing) saves money as you do not need mold tools for your prototype and expensive production.
2) It mitigates risks and you can easily alter or redesign an existing mold without expensive risks and processes.
3) 3D Printing offers clearer communication ensuring that no construction requirement is left to the imagination. It offers the exact representation of the desired product greatly minimizing errors with the finished product.
4) This is a great way of testing the market potential of your product before getting into the production with full force. It is also a simple way of making improvements to it before mass production.
5) Using 3D printer, you can customize and personalize product parts to fit the unique needs and this can be very important, especially for dental and medical industries or even the fashion and jewelry industries.
6) You can build things that seem impossible, such as square interior cavities, holes which change direction and overhangs. You can bring your geometry ideas into reality using a good 3D printer.
Applications of Additive Manufacturing (3D Printing)
Additive Manufacturing has several applications in a variety of industries.
• For example, within the medical industry, doctors can create models of the human body and organs for use in research and medical education.
• Within the architectural field, architects can create model scales of building to present to clients.
• Using this, auto parts can be created that might currently be made on assembly lines for the automotive industry and for manufacturing industrial equipment and consumer products.
• Others who likes to explore the process, it's also possible to create a digital file on a computer and take it to a 3D printing service to create the object. You can either take your file directly to a brick-and-mortar store for creation, or you can upload your digital file to a website. After paying for the process, the company will create your object and ship it to you.
How does 3D printing work?
3D Printing (Additive Manufacturing) can be deployed in various applications to create objects on demand. But, it is important to understand the working of 3D printing.
3D printers work in three different ways but they rely on the printer converting a design into individual 2D slices which are then combined to make the final 3D object.
a) The first method involves the usage of a pool of chemicals that turns solid when light, typically a UV laser, is showcased on it. Then the laser moves across a thin layer of liquid, drawing the required design. Once the first layer is finished, the resulting solid is lowered to allow a second thin layer of liquid to be deposited on its surface. Then the laser is used to outline and solidify the design. Until the final product is completed, more and more layers are built up.
b) The second method uses molten ink that becomes solid when it emerges from the printer head. Ink is used to draw the designs and they are built up layer by layer until the final product is complete.
c) A final method uses layers of powdered material, held together with glue or heated to fuse the powder together, to translate the design into reality.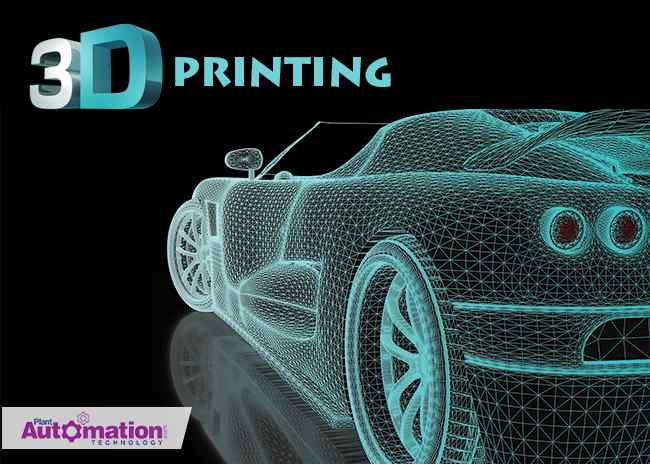 Industries using 3D Printing
3D printing has been revolutionizing various industries with its benefits. The 3D printing process has been used in manufacturing, medical, automotive etc industries making it the successful commercial technology.
Industries using 3D Printing are:
Aerospace Industry, Architecture Industry, Automotive Industry, Commercial Products, Consumer Goods Industry, Consumer Electronics, Defense Industry, Dental Industry, Education Industry, Medical Industry, and Mold Industry
Who uses 3D Printing?
Many professionals take benefit of 3D Printing and let's explore how the applicability of additive manufacturing has expanded in certain professions and who uses it today.
• Industrial Engineers
• Mechanical Engineers
• Software Developers
• Commercial and Industrial Designers
• Marketing Managers etc
There is the highest number of job positions for 3D printing skills today as the additive manufacturing has been used in:
• Other Computer Peripheral Equipment Manufacturing
• Colleges, Universities, and Professional Schools
• Tire and Tube Merchant Wholesalers
• Search, Detection, Navigation, Guidance, Aeronautical, and Nautical System and Instrument Manufacturing
• Aluminum Sheet, Plate, and Foil Manufacturing
Trends in Industrial Additive Manufacturing (3D Printing)
Here are the industrial additive manufacturing (3D Printing) trends you're likely to see in 2018.
1) Increased Industrialization
Industrial Additive Manufacturing is witnessing major advancements right from prototype to production, which is a sign of heightened industrialization. Previously, manufacturers had focused on prototyping tools. But, when they started moving into production, they require more efficient and reliable processes in place.
Instead of installing one to three additive machines in a factory, companies will install anywhere from 10 to 100 machines.

2) Multi-materials, Application-Specific Materials, and Ceramics
Using the additive manufacturing, companies are planning to innovate their technologies to allow more flexibility in materials. Instead of using lasers to melt metal powders, XJet suspends metal tiny particles into a liquid. This will change the properties of the material and allow for a much finer metal grain structure presenting the greater potential for printing multi-material metals.
3) Broad Adoption of Additive for Tooling
Adopting of any technology will be driven by a product lifecycle in manufacturing. For automotive, aerospace, and heavy machinery, product lifecycle can be 10 or sometimes 20 years. These manufacturers won't start the process by printing entire cars; instead, they start with an area like tooling.
So for a car that will come out in three years (the first product lifecycle), two or three parts will be produced with an additive. Then, when the second generation comes out in 10 years, one-third of the car will include additive parts because the automaker will have proven additive technology and know how to use it effectively.
4) Additive for Small, Complex, and Expensive Products
Adoption of tooling helps to produce small, complex, and expensive products. Those are mainly in the medical and dental fields today, with more than 15 million hearing aids printed to date and printed dental appliances, from aligners to crowns. The aerospace and automotive industries are soon to follow the small, complex, and expensive additive space.
5) Software
To make a process success, it is essential that software, hardware, materials are aligned properly. New types of software such as Autodesk Netfabb, address additive processes with optimization, simulation, and build preparation for a specific machine and material combinations will enable designers and engineers to optimize for additive processes.
Overall, the future of additive manufacturing (3D Printing) looks bright and it is going to play a key role in the manufacturing landscape. The possibilities for use-cases will enhance, expand considerably when the costs continue to reduce and processes become more efficient.