CNC machine tools networking solution for intelligent production management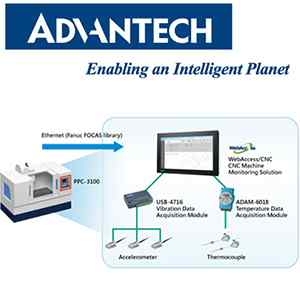 Introduction:
Development in the related technologies of Computer Numerical Control (CNC) machine tools resulted in the increasingly vicious competition among machinery suppliers. To give competitive edge to their competitors and earn profits higher than the industry average, product differentiation is the best way. Nevertheless, conventional CNC machine tools mostly use the closed control systems, which only offer fixed user interfaces and prohibit users to append or revolutionize any of the functions. Therefore, it is very difficult to improve equipment functionality and perform product differentiation through the secondary development to the machinery suppliers. Moreover, Industry 4.0 is changing the production patterns. Manufacturers are striving to revolutionize their stand-alone automation equipment into the intelligent factory production. Machinery suppliers are facing a major issue in providing network monitoring competence to their products as CNC machine tools are considered as the significant production equipments.
Advantech's industrial IoT solutions of CNC machine tools provide diverse data acquisition modules and industrial-grade panel computers for equipment suppliers to maximize production management, cutting tool management, intelligent monitoring, and other kinds of applications besides facilitating CNC machine tools to be the networking equipments through Ethernet. Managers can analyze huge collected data to enhance the production process and to achieve the goal of intelligent production management through Web Access/CNC software. They can also accomplish the goal of intelligent production management.
System Requirement:
A Taiwanese professional equipment manufacturer, which is known for manufacturing CNC milling machines and machining centers, possesses reputability in various areas such as aerospace, wind energy, automotive, panel and many industries, electronics. But, this Taiwanese professional equipment manufacturer undergoes tremendous pressure and menace from the rise of the red supply chain even though it manufactures and supplies high-quality machines, which are preferred by international manufacturers. The company has been involved actively in innovative research and development, and recently anticipated to enhance the functionality of their products to obtain improved sales-results in a highly competitive market.
The company planned to use PC-based operating platform to enhance the spindle monitoring development project of milling machining center. It also decided to collect accelerometer and thermometer of information by adding computers and data acquisition modules. This assists to control cutting vibration and spindle temperature to accelerate the machining accuracy of the work pieces.
The company planned to adopt business computers in the early stages of planning. Because the Human Machine Interface (HMI) and the usage of CNC machine tools factory has huge demand in the market. The company also considered that the business computer contains faster upgrade cycle and cannot provide long-term supply guarantees. However, it eventually decided to prefer industrial grade touch panel computer.
The size and appearance of the new computer must be reliable with the existing scale and character of the machine design. This helps to integrate into the CNC milling machine without any peculiarity. CNC milling machines must be provided with global warranty and follow international safety regulations as they will be exported overseas.
The company also ought to provide complete Turnkey services for customers by Internet of Machines platform to upgrade the machine's functions. Therefore, it entails full-featured online monitoring software to upload the front-end device information to the back-end management system in real-time, which in-turn makes users to be more competent to supervise machinery and equipment in workshop.
System Description:
Based on the requirements of project, Advantech's CNC machine tools networking solution provided the related hardware and software products for single machine data collection and network-enabled equipment in the factory. For the spindle monitoring part, an open platform was recommended by Advantech to expediently develop applications and collect equipment information through integrating industrial-grade touch computer PPC-3100 with multifunction data acquisition module USB-4716 and multi-channel isolated thermocouple module ADAM-6018. Advantech's Web Access/CNC software permitted machine developers to drastically reduce project development time and easily integrate a variety of device data to produce an informational, visualized, and intelligent production management system.
Apart from using USB-4716 and ADAM-6018 to obtain accelerometer data and spindle temperature, the PPC-3100, as a HMI, has many exceptional features to gather the machining center developers' needs such as providing suitable and user-friendly touch input method.
Advantech's WebAccess/CNC provides the real-time monitoring capability for CNC Machine tools as it contains the browser-based SCADA software and networking equipment platform. It also supports a number of major CNC network-type controllers and different communications protocols that enable the CNC machine tools, I/O modules, HMI computers, Programmable Logic Controllers (PLC) and other underlying devices are to be incorporated in this remote monitoring platform for unified management besides having a wealth of CNC software management functions including instant machine status, machining program management, equipment utilization analysis, parameter setting compensation, maintenance information, etc.
Project Implementation:
| | |
| --- | --- |
| Product | Description |
| PPC-3100 | 10.4" Fanless Panel PC with Intel® Atom™ D2550 Processor |
| USB-4716 | 200 kS/s, 16-bit, 16-ch Multifunction USB Module |
| ADAM-6018 | 8-ch Isolated Thermocouple Input Modbus TCP Module with 8-ch DO |
| WebAccess/CNC | CNC machine networking platform with web-based HMI/SCADA software |
Conclusion:
A closed system does not have cross-platform versatility. It can also choke the cutting-edge research and innovation opportunities although it executes various functions without external influences. Fortunately, Advantech encompasses rich hardware and software products to offer one stop shopping integrated solutions for the fundamental data collection or upper management platform. This helps CNC machine tools manufacturers to perform machinery product differentiation design flawlessly.
We provide customized services to meet customer's special requirements. Our global presence make developers to get professional technical support timely and also manufacturers trade their pioneering products to many countries and areas.