Slot Drain Systems Announces NSF Certification for it's 10,000 Series Drains for Meat and Poultry Facilities
WINNIPEG, Manitoba, May 13, 2019 (GLOBE NEWSWIRE) -- Today Slot Drain Systems, www.slotdrainsystems.com a subsidiary of Global Drain Technologies, announced it earned NSF sanitary ANSI 14159.1 certification for meat and poultry processing environments for it's complete line of 10,000 series drainage products. The 10,000 series is designed for harsh food processing environments with strict sanitization requirements. The NSF certification validates Slot Drain's 10,000 series as safe for the food processing environment and is an industry first for the category of slot drains.

"Slot Drain Systems didn't just commit to creating a sanitary slot drain –it sought out the most rigorous third-party certification in the nation to verify that this product meets the strictest standards of health, sustainability and performance in the marketplace," said Tyler Gompf, CEO of Slot Drain Systems. "This achievement is especially impactful as the 10,000 series is designed for processing environments, where its innovative no niche design reduces exposure to bacteria and microfilms and translates to safer, work environments for food manufacturers."
The 10,000 series is highly durable, for the modern food and beverage production floor, cleanliness is a bottom-line consideration. Compromised product creates immediate losses and costs and carries long-term risks. Conventional surface drainage, like grates and trenches, creates an environment where bacteria can fester. For food and beverage processing, Slot Drain® 10,000 series is the most durable, sanitary and cost-effective drainage system available.
"When it comes to innovating sanitary and durable products for food manufacturer's it's just as important that we develop products that lessen the impact of audit inspections within regulated industries," said Viking Kristjannson, Senior Sales Executive. "I'm proud of the R&D team here at Slot Drain who worked closely with NSF to get this product just right. From the product's raw materials to ensuring the no niche design was able to be executed by our team of fabricating professionals."
The 10,000 series meets NSF ANS1 Standard 14159.1 which establishes environmental, health, and performance requirements for plumbing products that are intended to be used in meat and poultry processing facilities. The standard requires effective performance, minimized niche areas no seams or corners where bacteria and microfilm can grow.
NSF is the nation's premier independent certifier for the food industry. Founded in 1944, NSF's mission is to protect and improve global human health. Manufacturers, regulators and consumers look to NSF to facilitate the development of public health standards and certifications that help protect food, water, consumer products and the environment.
Slot Drain Systems manufactures stainless steel drains for sanitary environments. Founded in 1986 Slot Drain products can be found across the globe in meat, dairy, seafood, pet food and poultry facilities. Slot drain systems was the world's first grate less trench drain solution allowing for the same drainage performance to be upheld without the hassles of a grated trench.
A photo accompanying this announcement is available at http://www.globenewswire.com/NewsRoom/AttachmentNg/0e579866-194b-4e8e-8689-04a375f7029c
Kyle Michalick  -  855.497.7508kmichalick@slotdrainsystems.com
Slot Drain Systems for Meat and Poultry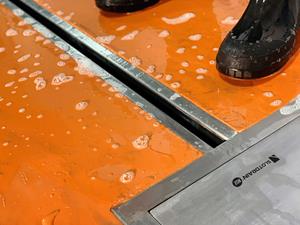 The 10,000 series is NSF ANSI 14159.1 certified for Meat and Poultry Plants.