Screenhouse, featured in Chicago's Millennium Park, Comes to Life with Help from Fast Radius' Additive Manufacturing
CHICAGO, Oct. 21, 2019 (GLOBE NEWSWIRE) -- Screenhouse, a freestanding art installation designed by Edra Soto and constructed by Navillus Woodworks officially opens in Chicago's Millennium Park on Thursday, October 24. Navillus built Screenhouse with assistance from molds created by Fast Radius through additive manufacturing processes that saved both money and development time for the project.

"The polymer mold components developed by Fast Radius were both lightweight and strong, enabling us to test the design at full strength before the installation," said Navillus Woodworks President and Owner Daniel O'Sullivan.
Fast Radius produced molds for Navillus utilizing additively manufactured lattice structures, two or three-dimensional micro-architectures comprised of a network of nodes and beams, or struts, that dramatically reduce weight while retaining structural integrity. The mechanical benefits of lattices empower product designers and architects to defy the constraints of traditional manufacturing and construction to create new—and often higher performing—designs.
"Our mission is to make new things possible to advance the human condition. I can think of no better way to serve that mission than helping bring Edra Soto's beautiful design to life in Chicago's Millennium Park, where it will be enjoyed by our fellow Chicagoans and visitors from around the world," said Fast Radius Chief Executive Officer Lou Rassey. "This project with Navillus shows the potential of additively manufactured molds to redefine construction project design."
Visit here to read a full case study on Fast Radius' work with Navillus on Screenhouse.
Screenhouse was designed by Edra Soto, a Chicago-based artist, educator, curator, and gallery director who was born and raised in Puerto Rico. Soto designed Screenhouse as a freestanding social structure influenced by rejas, traditional Puerto Rican garden gazebo models. Screenhouse is located in the Boeing Gallery North in Millennium Park, near the iconic Cloud Gate (a.k.a. 'the Bean').
Fast Radius helps make new things possible for today's leading product companies through additive and legacy manufacturing, partnering with customers to make products more reliably, improve production chain efficiency, and help create breakthrough applications.
About Fast Radius
Fast Radius is a leading expert in both additive and legacy manufacturing. Through their in-house additive factory and their global manufacturing network, Fast Radius is committed to finding the processes that give customers the best results. From application discovery and design to manufacturing and fulfillment, Fast Radius brings the future of manufacturing and the supply chain to its customers. In 2018, Fast Radius was recognized as one of the 9 companies best "implementing technologies of the Fourth Industrial Revolution" by the World Economic Forum (WEF)—the only company honored that is based in North America. Fast Radius is headquartered in Chicago, with offices in Atlanta, GA and Singapore, as well as a production hub on-site at the UPS Worldport facility in Louisville, KY. Visit www.fastradius.com for additional information.
Lindsay Baish
Director of Marketing
Fast Radius
lindsay.baish@fastradius.com
(312) 319-4834
A photo accompanying this announcement is available at https://www.globenewswire.com/NewsRoom/AttachmentNg/c5da20a6-72ca-4a58-8d66-4375062bd062

Edra Soto's Screenhouse, in Chicago's Millennium Park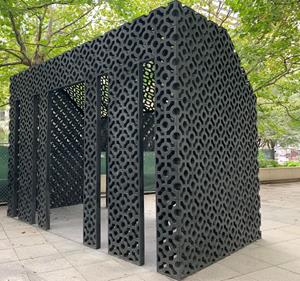 Navillus Woodworks built Screenhouse with assistance from molds created by Fast Radius through additive manufacturing processes